Smart Bench Mini
The Smart Bench Mini can help change the way citizens interact with public spaces, and help educate them on green initiatives.
Bussigny, Switzerland is a small town with 9,000 citizens, but is home to over 800 businesses. Bussigny is a certified "City of Energy". This title reflects their focus on green alternatives, and they routinely promote public solutions to reduce their carbon footprint across multiple sectors.
Despite their size and focus on green energy, Bussigny was looking for the next innovative project to help create ways that their citizens (and the wider audience around the globe) could understand and connect with their green mission and initiatives.
As a smaller town, foot traffic is much more common than in some major areas around the world. This presented a unique opportunity to really help people connect by implementing the Smart Bench Mini. As a bench people get to interact and make use of it, while also seeing the environmental benefits of solar panels firsthand.
In public spaces, benches can serve as meeting areas, and naturally discussion can spark about the bench and the role it plays in reducing wasteful energy consumption. The City of Bussigny made the bench size a priority as these were to eb installed without any limitations in various spots around the city.
To protect the investment for the city – focussing on the quality of the materials and the durability was at the front of their minds, to ensure there was easy maintenance and there was less chance of damage during use.
In the first seven days, Bussigny saw a massive uptake in the bench's usage:
90+ Chargings
300+ WiFi connections
48 Hours of green energy charging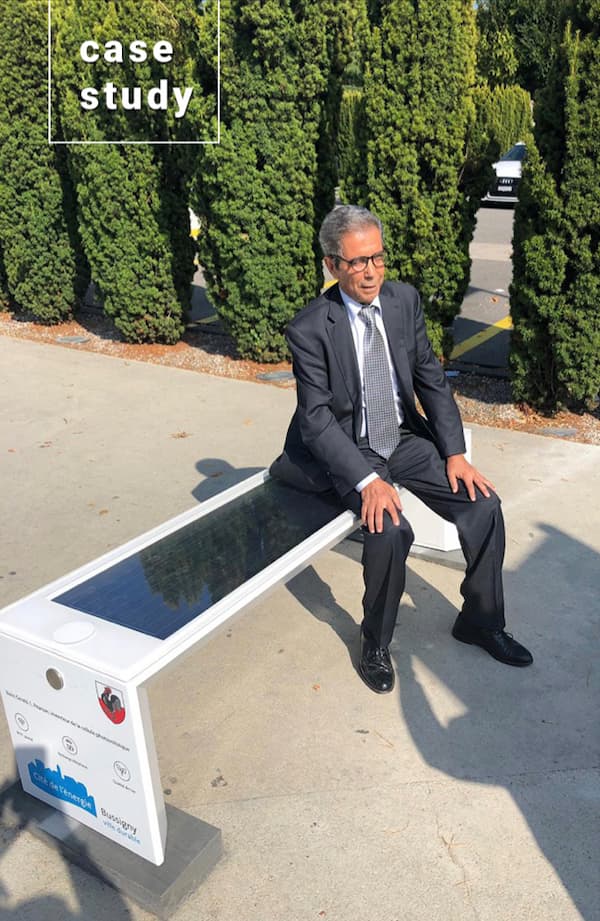 Get in touch
Want to Get Involved?